🥇Best Trading Platforms
Trading platforms are the software provided by brokers to open and close trades, manage portfolios and also integrate additional services. Platforms are a fundamental component of accessing financial and investment markets, as well as a competitive advantage for those who choose more advanced brokerage software.
The best trading platforms right now [TOP LIST 2021]
The proliferation of financial intermediaries that allow online access to stock exchanges has given rise to hundreds of different platforms for trading online. While each one is different from the other, they are all presented as "the best ever".
But things are not like that! TradingOnline.com takes you by hand through this deepening, in the objective choice of the platform to make trading more functional to your needs.
The trading platforms, present on the market today, even limiting ourselves to the one for retail investors, are various in functionality, interface and also in terms of integrated broker services.
Trading platforms – main features:
| | |
| --- | --- |
| 💰How much do they cost: | Free to use (they charge on trades) |
| 💪Regulating authority: | ESMA (EU), FCA (UK), SEC (USA), ASIC (AU) |
| 👶How to practice: | Using a paper trading account |
| 👍Most used: | Metatrader 4 |
| 🚀Most innovative: | TradingView |
| 🥇Best platforms: | Best online trading platforms 2021 |
Main features of online trading platforms
What is a trading platform?
Trading platforms are software that act as an intermediary between the investor and the markets to which their broker offers access. They offer order management, portfolio management and – in increasingly frequent cases – additional advanced instrumentation.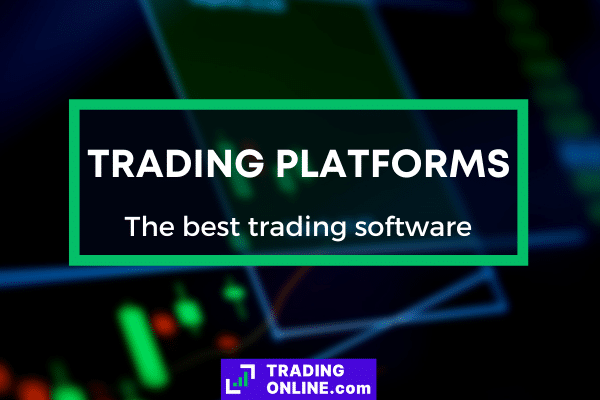 They are typical of online trading and all investment systems that allow you to invest on your own account, without having to go to a bank or contact a financial advisor. A tool therefore necessary for anyone who wants to deal directly with their investments. Now that we have given a "scholastic" definition, let's see how a trading platform is made and how we can use it.
When choosing a trading platform, we are choosing software first and foremost. It may need to be installed on your computer, it may be directly accessible online, or it may be an app for smartphones and tablets. In any case we are talking about software in the strict sense, that is, computer programs with specific functionality for investing online.
Intermediary between us and the markets
The platform can also be considered a window between us and the markets. It is always the online trading platform that takes care of recording our orders and forwarding them to the broker. The broker will then have the task of transforming those orders into trades, buying or selling the security we have requested.
Trading platforms, even the most basic ones, offer portfolio management. All open positions are typically placed in a specific section of the platform where we can consult, close, and possibly modify them.
Additional instrumentation
The functionalities described so far are the basic ones. Today almost no platform limits itself to this type of offer. They are in fact present tools and additional services, some common to many platforms, others instead specific of a certain platform or a certain broker.
The graph is a source of very important information regarding the price trend, as well as for the application of indicators and forecasting tools on the future trend of a specific assets. Every trading platform interprets this type of information in specific ways and with the possible integration of plug-ins or other analysis tools.
Many of the more advanced trading platforms incorporate news related to the financial markets. Sometimes this is simply news, while in other cases it is also commented to help investors understand the impact it may have on the markets.
The most popular brokers manage the portfolios of thousands of investors and can thus analyze market trends on any specific asset. Many trading platforms today allow for a social approach, with indicators that signal how other traders and investors are doing.
COPY AND MIRROR TRADING SYSTEMS
These systems are also becoming increasingly popular and can be integrated into specific trading platforms, both with third-party management, and directly integrated by the broker that manages the platform. They are advanced systems that allow you to copy the positions of other traders who are getting results, with a simple and fast procedure.
SCRIPTING AND PROGRAMMING LANGUAGES
Professional trading platforms such as MetaTrader include in their offer a programming and scripting language, either to handle routine operations or to have advanced programs that can trade for us.
Trading platforms can include useful data for fundamental analysis such as turnover, revenue, dividends and P/E Ratio of various companies and stocks. Information that can certainly be found elsewhere but is convenient to find it integrated directly on the platform.
Today, all quality trading platforms also offer a demo mode that allows you to test the platform without risk. The importance of the demo account is high, because in addition to offering a "training ground" for trading, it allows you to touch all the features of a platform.
Trading platforms also commonly offer a live streaming of prices on all assets they offer in their listings. This allows you to consult at any time or the spot price of the market, or even the price charged by our broker of reference.
Online Trading Platforms How They Work
Online trading platforms can have very different ways of operating, despite having a set of basic functions that are generally common and cross-cutting.
They are linked to the reference broker.
When choosing an online trading platform, we are simultaneously choosing the broker that offers it. In some cases, the broker creates its own exclusive platform. In other cases, there are platforms, such as Metatrader, which are adopted by different brokers. You should choose your broker and your trading platform simultaneously, evaluating the ways in which one influences the other.
They are the tool for setting orders.
Whatever type of functionality our broker should offer, from leverage to short selling, from take profit to stop loss, it is through the trading platform that we will be able to use these features. Even if the action of buying and selling assets is performed by the broker, the platform is how we send our orders to the broker of our choice.
What are the most reliable and secure trading platforms? 🥇TOP 2021 List
We have surveyed the international online trading software market to identify the best trading platforms, those that are reliable and secure and can offer a good core of services to their users.
The best online trading platforms 2021 are:
The selection of TradingOnline.com has been made taking into account several measurable criteria, starting from the functionalities offered for the setting of orders to the more particular ones, which can be the CopyTrading, the presence of integrated programming languages and the sentiment analysis.
However, this is not a ranking in all respects, where the last position can be considered "the worst platform" of all the others: each of these platforms, also in relation to the broker that offers them, may be more or less suitable to our needs. See the table of characteristics of the best selected trading platforms including site (broker), platform adoption, presence or absence of a professional version and links to account opening and review:
Table of the best online trading platforms 2021
With the deepening of the functionalities of each one we can go to decide – always in autonomy – to which we can offer a chance, starting from a demo account. Demo accounts, also referred to as "paper trading", allow investors to test a platform using virtual currency that cannot bring to any real losses.
eToro's proprietary multi-asset platform, which can be accessed through any supported internet browser.
Professional platform that is offered by several brokers and is the most popular among professional traders. The first version, MetaTrader 4, is still the most popular today even if MT5 is actually more powerful. Being that the two versions are very similar, we can treat them as one platform for the sake of our review.
This professional platform is also chosen by fewer brokers among those offering services in Europe, as it is typically used for DMA pricing, which is not exactly common in our continent.
Trade.com Platform (Mobile & Desktop)
Capital.com also relies on a platform offered both via the Web and through an App for smartphones. Simplicity is the watchword, although the functionalities are still interesting.
Important note about Capital.com: in addition to the free app ideal for Smart Trading thanks to the Artificial Intelligence system, it also offers its clients MetaTrader 4 and TradingView, perfect for automatic and algorithmic trading. You can register for free here.
IQ Option (here for the official website) is a broker that has always been attentive to the needs of those who have just started trading and its web platform is certainly proof of this commitment. Accessible via web (or downloadable separately), it offers relatively simple access to any product included in its list, with an interface that closely resembles that of options.
eToro WebTrader Platform
eToro relies exclusively on a WebTrader solution as its official platform. A solution developed in-house – and therefore tailored to the specific functionality offered by the broker – which is accessible from any web browser without the need for a download.
Anyone who wants to trade with eToro (here for the free demo account) will therefore have to access the platform that this broker offers via web browser, supported by Microsoft Edge, Google Chrome and even Safari. The WebTrader platform of eToro offers several functionalities and features, in a perfect line and coinciding with what the broker offers in terms of functionality.
It is the main tab through which you can access the lists of financial products. eToro offers both CFDs and, for stocks, ETFs and cryptocurrencies, the ability to trade on the underlying instruments. You can navigate the Markets section to get inspired, or you can use the search bar above to find one particular security.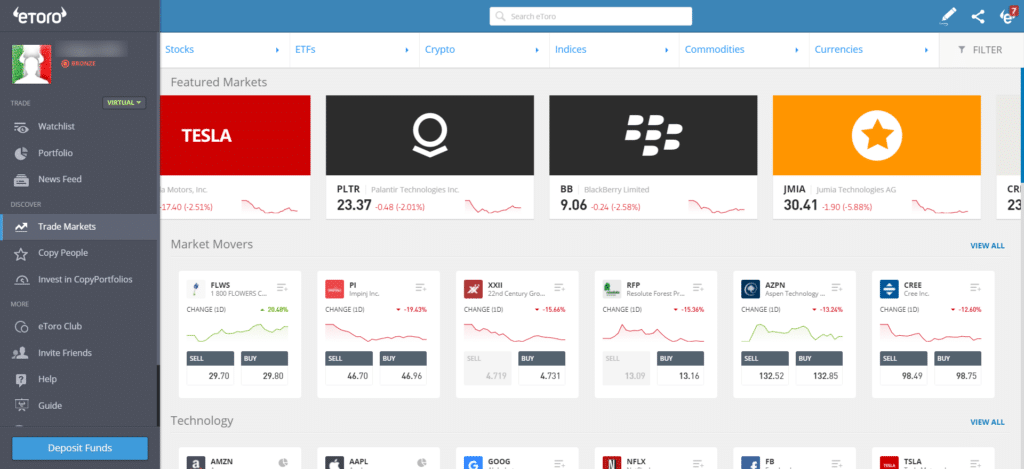 This is the tab through which you can access the eToro CopyTrading system. Through the first of the screens that are displayed is proposed a selection of traders who have been chosen by the staff of eToro. Immediately after the Most Copied, which are the traders who are the most copied by users of eToro.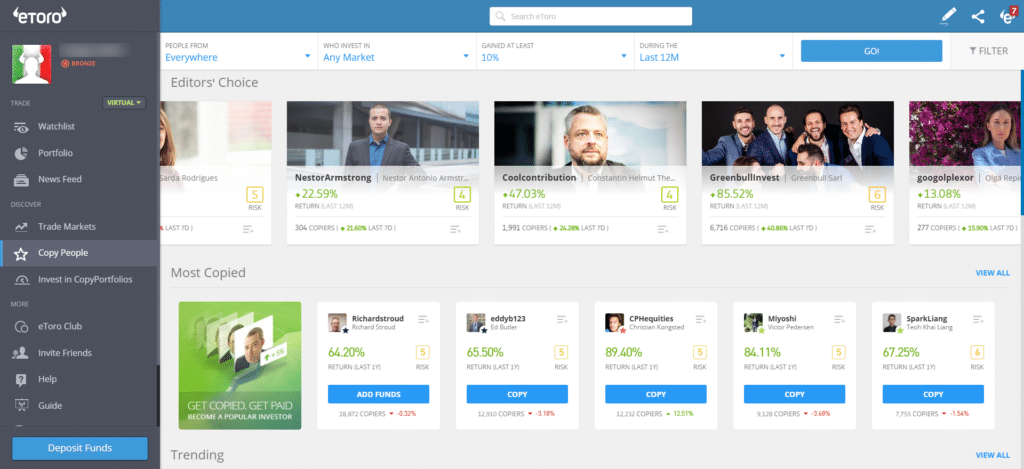 Through this specific section it is also possible to access to filters that allow us to narrow down the traders we want to copy, the ones that are most suitable for us. We can identify them by origin, by type of markets on which they invest, by results obtained on the markets (in terms of percentage of gain), as well as by temporal space within which they managed to obtain this specific result.
By clicking on the name of any trader to be copied we can also check the personal file of the investor. Here you will find all the performances, i.e., the performance achieved month by month.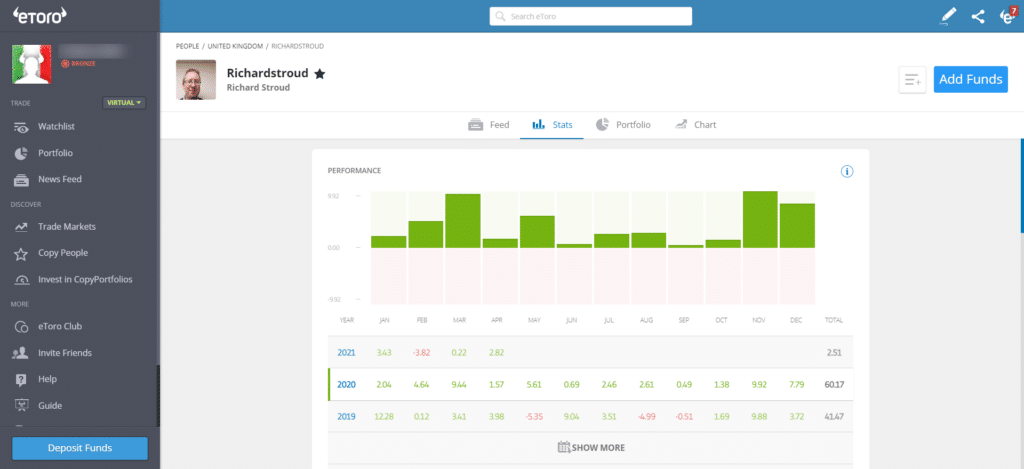 We also find a risk indicator, which is automatically calculated taking into account the assets that the trader generally trades. On the trader page you can also see additional information, such as the current portfolio composition, the number of open and closed trades, the average number of trades and the average duration of a trade.
In the Feed section you can find the direct posts of the trader, just like in a common social setwork: a great way for the trader to indicate the reasons for their operations and to keep a direct contact with their followers.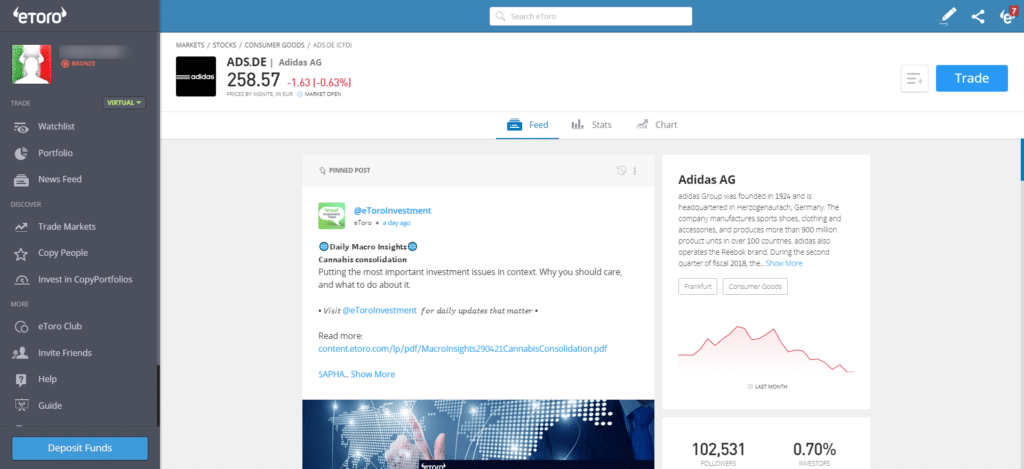 Another section that coincides with an exclusive offer of eToro. In this section we can in fact participate in portfolios created by eToro that can collect the best traders of the platform or be built following the themes of stock and sector: there are portfolios that group all the companies that invest in renewable energy, companies that deal with smart working and even those who are involved in the development of self-driving cars.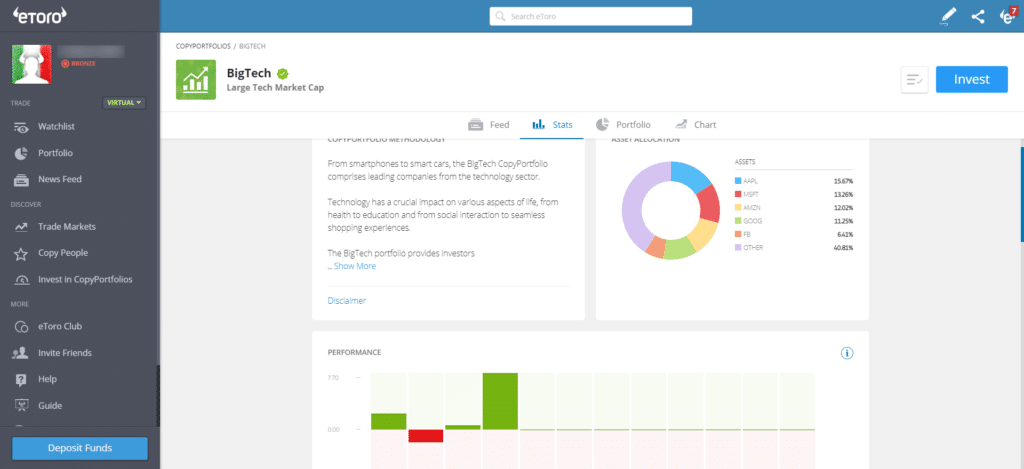 In addition, in this section you can invest in portfolios of partner companies such as NAPOLEONX, ALTIA, SIJOTTAJA and other asset management groups. These companies also offer their products through the eToro trading platform, at no additional cost and under the same conditions as other CopyPortfolios.
By clicking on any portfolio, it is possible to know the most important details: the composition, the trend, the number of subscribers and so on. If you want to diversify your portfolio without manually buying hundreds of stocks, you can do it by investing directly on a basket of carefully picked stocks using the CopyPortfolios feature.
The eToro platform allows you to invest in over 2,300+ securities. Clicking on any asset on the platform takes you to its in-depth page. On this page there is a presentation of the asset, the number of followers, as well as a feed of the main posts that are produced by users.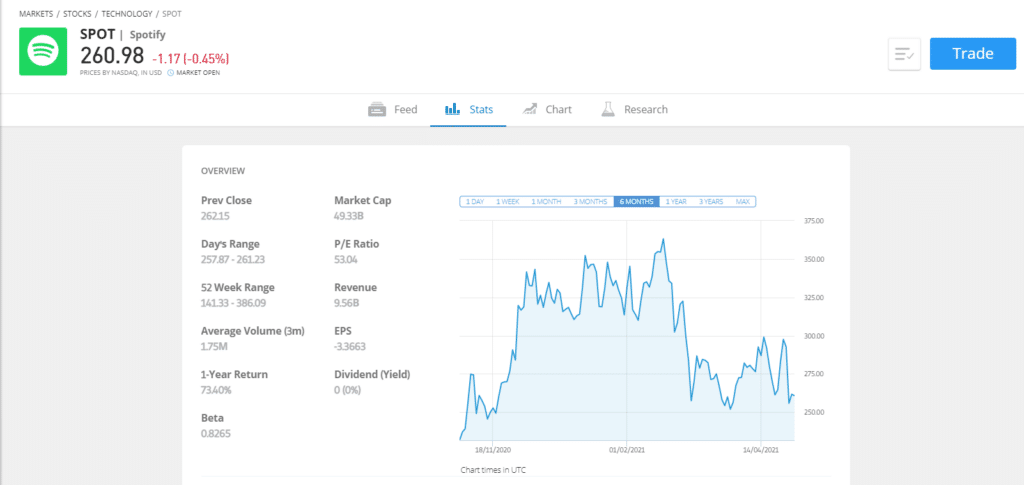 In the Statistics tab you can consult the most interesting data, such as the daily variation, the previous closing, the P/E ratio (when possible), the eventual capitalization, as well as the eventual dividend.
Simply click on TRADE to access the screen where you can place your order. Here you can choose the amount of money to invest and the direction of the investment (long or short). In addition, you can also use the order screen of the eToro platform to set a Stop Loss, which automatically closes the position when a certain loss is reached, or a Take Profit, which allows you to close the position after a certain profit.
By clicking on the scrolling menu, you can also place a conditional order, which will only be triggered when the order price is reached.
You can also choose the leverage to be applied: depending on the asset you can invest with leverage from 1:2 to 1:30, freely adjustable. At the top of the order screen, you can also choose Sell, to switch to the short sale mode.
NOTE FOR U.S. PERSONS: eToro is an international broker that offers a different experience in every jurisdiction, according to the laws of every country. Even if it is possible to use eToro in the United States, it is not possible to access CFDs or leverage as those are banned from the current SEC regulations.
Social trading on the eToro platform
eToro was the first broker in the world to offer social trading. The Social Trading of eToro includes several features. The first is the Social & CopyTrader that we have already talked about: the ability to copy investments and portfolios, in one click of a trader on the platform.
There is also the Facebook-style feed for each type of asset, and especially for each trader registered on the platform, through which to communicate between interested in a particular market, as well as between followers and traders to copy.
Last but not least, the sentiment of the platform on a particular asset. Whatever asset we want to evaluate for purchase, you can instantly get an analysis of how other traders on the platform are investing.
If a sentiment of "66% buy, 34% sell" is reported for a particular asset, that means that 66% of those who invested with eToro have a long position and 34% have a short position.
Like all platforms, the eToro web trader provides a chart that serves to instantly represent the price trend of a particular asset. That's not all it serves for: different types of trading indicators and patterns can be placed on the chart to identify supports, resistances and to do technical analysis.
The chart offered by eToro is of a professional level, despite the fact that it is a web platform that does not require a specific download. Prices are updated in real-time and you can study them how you like, changing the time frame and the way prices are displayed on the screen.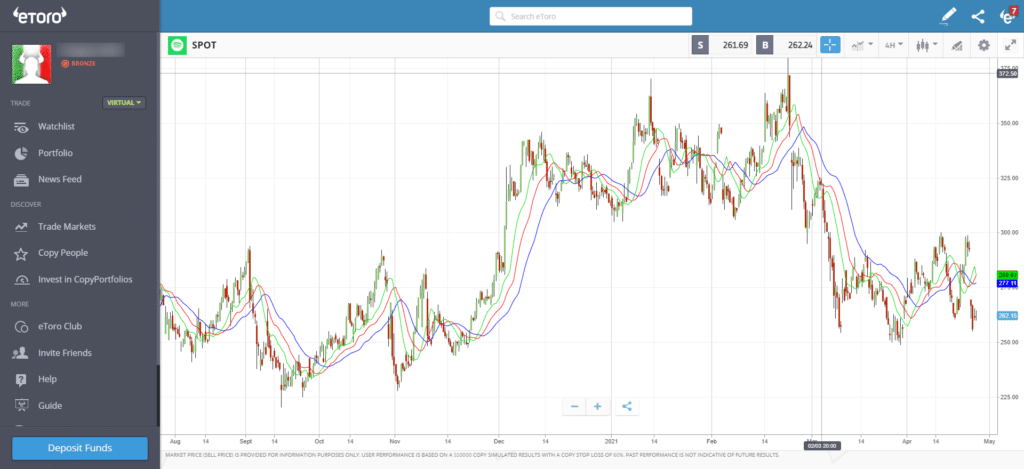 By accessing the full-screen chart, we will be able to set different types of charts (line, mountain, candlestick), as well as apply some common indicators, such as Random Walk, Fibonacci, ADX, Alligator, Bollinger Bands and many others, among the most commonly used for technical analysis.
MetaTrader trading platform
MetaTrader needs no introduction: it is the most popular trading platform in the world and is almost unanimously considered the best platform for day trading.
MetaTrader is a third trading platform common to several brokers. FP Markets – here for its official website – is an example of a very good broker that exclusively offers Metatrader to its users. Trade.com, on the other hand, combines it with a proprietary trading platform accessible via the web.
Capital.com, another trading broker on TradingOnline.com's Best Recommended list, also implements MetaTrader internally, in the MT4 version. MetaTrader is a very advanced online trading platform that includes several services in its basic version, which can be further expanded using the integrated programming language, with which you can both write your own codes and integrate programs, routines and scripts written by others.
It is the most important feature included in MetaTrader, present in both version 4 and version 5. It is a full-featured programming language with functions and libraries that can read charts, interpret market data and provide simple building blocks for complex programs. Based in part on the syntax of C++, it is the most powerful trading programming language in the world and exclusive to this platform.
MQL, as we will see in a moment, has also offered the basis for a complete store where programmers and independent traders can exchange their programs, which can range from simple systems integrating trading signals to real semi-automatic trading programs.
Within MetaTrader there are already dozens of technical indicators that you can apply on your chart. MACD, Bollinger Bands, Oscillators, ATR, Alligator Indicator and many others. MetaTrader is the richest platform with the most technical indicators already integrated in the basic version of the software.
Graph analysis can also be integrated with the possibility of drawing freehand – using a mouse – on any type of graph present within the platform. Even if MetaTrader 4 is already very powerful when it comes to technical indicators, MetaTrader 5 has an even wider selection of tools and it is also faster at calculating them.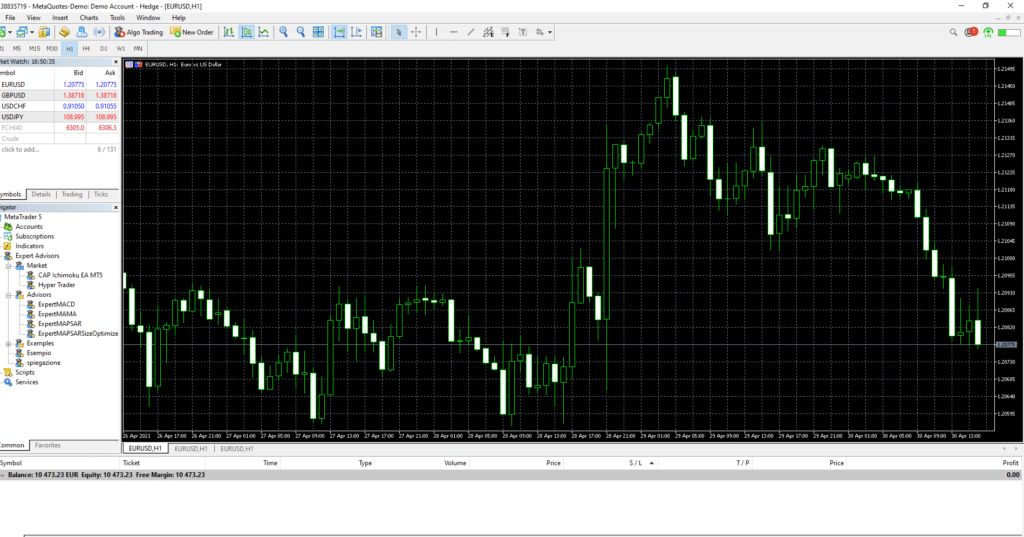 Within MetaTrader you can access the MQL Marketplace, where different types of scripts for automating routines are exchanged, as well as the famous Expert Advisors, automatic and semi-automatic trading tools that can implement different types of services. If you are a programmer and you know how to code, you can also sell your own trading robots and profit from helping other traders.
Be careful when you buy or when you download an Expert Advisor for free. Most of these trading robots carry a high level of risk, as they are programmed to perform dozens or hundreds of trades every single day. They should be regarded as highly speculative trading systems and you should always double-check their quality before using them with real money.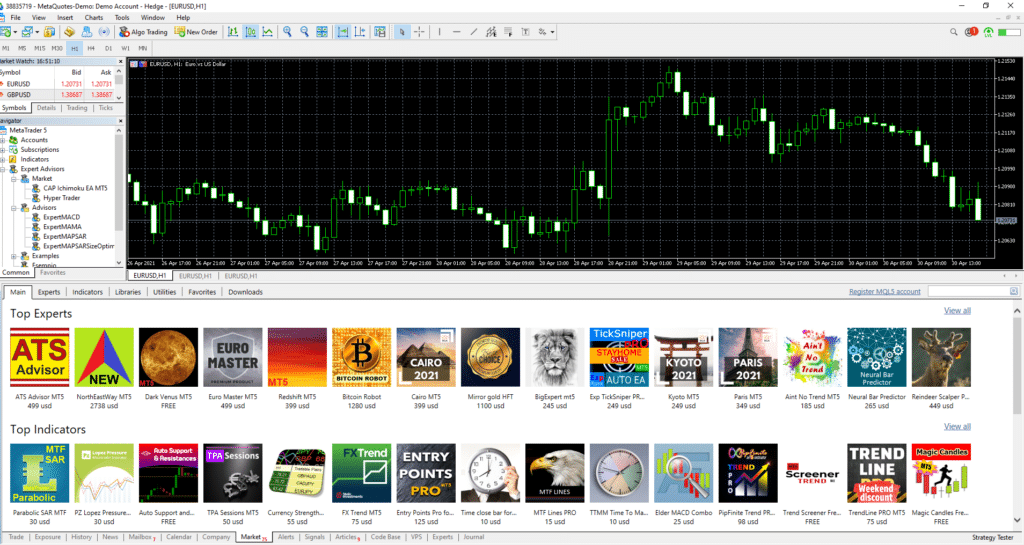 They are the programs built with MQL that can make trading in automatic way. In fact, they allow to analyze prices, to analyze the trend of a security and also to directly manage trading operations on the basis of processed signals. They are now a relevant part of the competitive advantage MetaTrader has over other platforms.
Expert Advirors (EAs) are at the heart of what made MetaTrader so famous. They can use the price chart as an input to perform calculations and operations, such as opening and closing trades. But they are not the only tool that you can program or download on MetaTrader: using MQL you can build custom indicators and script, and now also Python is supported for more advanced algorithms.
MetaTrader's interface is highly customizable and includes basic features such as list management, depth of market (DOM) analysis for each type of listed asset -which reports all conditional orders beyond the current market price- and a handy navigator that allows you to quickly choose indicators, scripts and Expert Advisors to insert or not in the chart.
This is why it is commonly referred to as a professional trading platform. With all these features in place, it may not be the easiest to use but it is definitely helpful. Some traders, for example, only place their trades according to the DOM analysis. But if we scan the market, it's easy to realize that only a handful of platforms actually have this tool.
It is a demo platform inside MetaTrader that allows you to test Expert Advisors through backtesting. Backtesting means trying to apply a trading robot to past candlesticks so that you know if and how profitable it would be to use it.
Not to be confused with the free practice account of FP Markets and other brokers that offer MetaTrader. In this case we are talking about a system that allows you to have a sandbox for automatic trading, based on past historical periods. MetaTrader remains an extremely advanced platform, with a non-trivial learning curve, but capable of delivering a decidedly professional level of performance.
IRESS Platform
IRESS is the alternative platform offered by FP Markets (click here for official website of the broker), for those who do not want to be involved in CFD trading but directly with the underlying instruments. It is proposed in the market as a professional platform, which is in line with the quality and quantity of tools that IRESS offers to those who choose it, only at the FP Markets, instead of MetaTrader.
IRESS is used by the Australian broker that also operates in Europe to offer a different commission system from the typically spread-bound one we are used to seeing in CFDs. It is not a more profitable system in a general sense, but for certain strategies it can be advantageous, especially in the absence of overnight commissions.
There are 59 of them and they are applicable on all the assets that the broker offers on the list. From the RSI to the Ichimoku Clouds, passing by the most used tools for technical analysis, the most useful one for short and very short-term.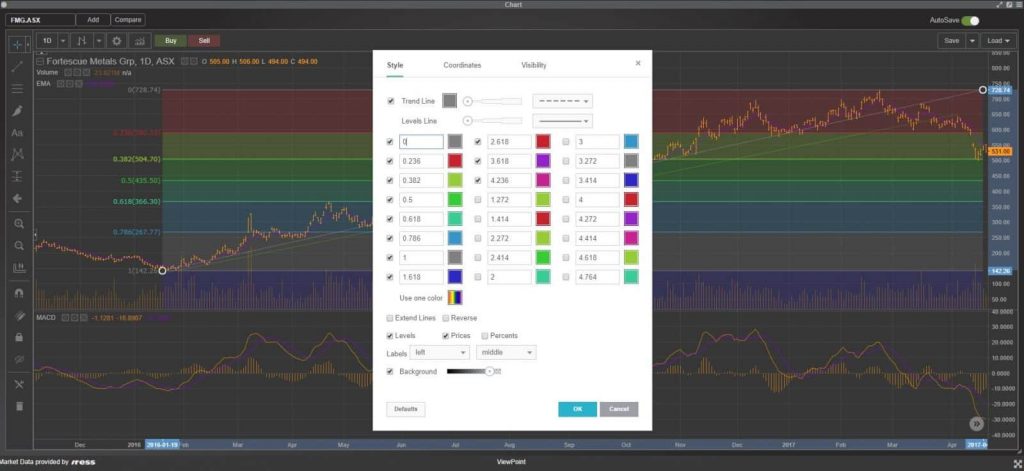 Technical indicators can also be integrated with freehand drawings on the chart, along with the possibility to use more than 50 drawing tools on the chart. The customization possibilities are very wide, with a very high level of detail on any kind of chart.
There is more than just the standard 30-second, 1-minute, 5-minute timeframes offered by almost every platform. With the IRESS Platform you can freely set almost any timeframe for chart analysis, also relying on a database that preserves the chart of every financial instrument since its first day of trading on the Stock Exchange.
Which allows you to correlate different assets on the same chart, making it easy to identify trading and arbitrage opportunities. Identifying possible divergences becomes very simple. IRESS is nonetheless a professional platform, although it lacks features that are included in MetaTrader.
IQ Option WebTrader trading platform
IQ Option offers a proprietary WebTrader that aims to be user-friendly, but without sacrificing functionality.
This is the tab that allows you to read news coming from the markets. A Twitter-style news aggregator, with editorial selection by the IQ Option staff. Within this section there are not only news produced by the editorial staff of IQ Option, but also those collected from newspapers and news agencies.
Within the IQ Option web platform it is also possible to participate in chats with other members of the platform to exchange ideas and opinions. The chat is always a source of good investment inspiration and is reserved for those who have deposited real money, so as to raise the level of conversation.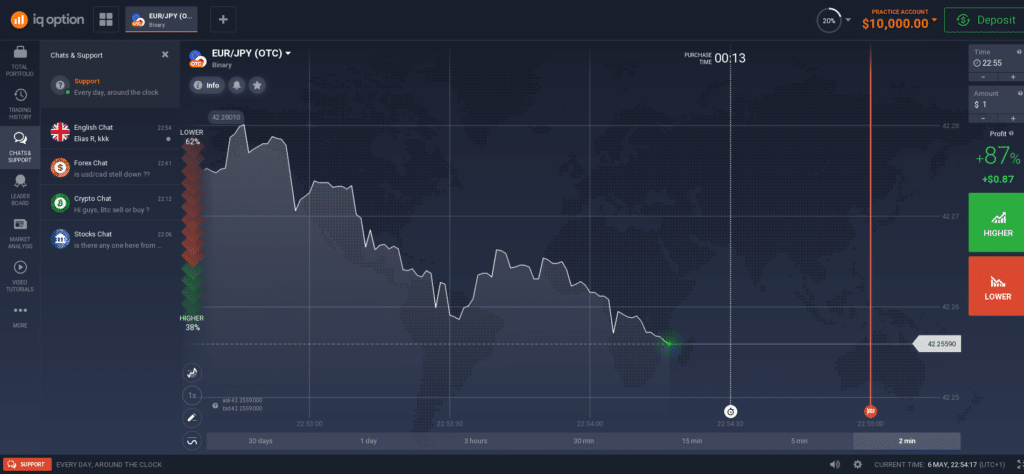 Within the IQ Option platform you can find, directly in the trading interface, instructional videos on the different markets that the broker offers.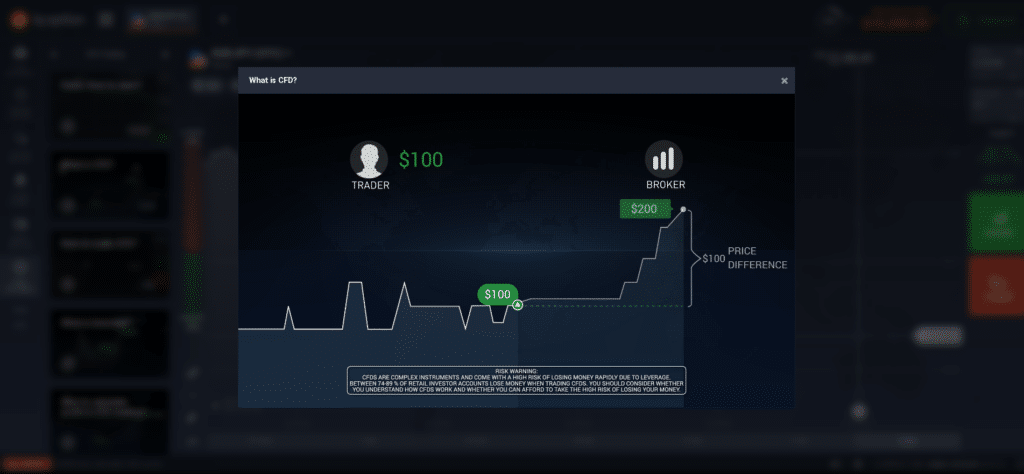 On the chart of the IQ Option trading platform you can set various technical analysis indicators. However, many of the indicators that are common at other platforms are not present.
The order screen is always present on the right and it allows you to set the amount to invest, leverage, stop loss, take profit and also the conditional orders with automatic triggering upon reaching a certain price.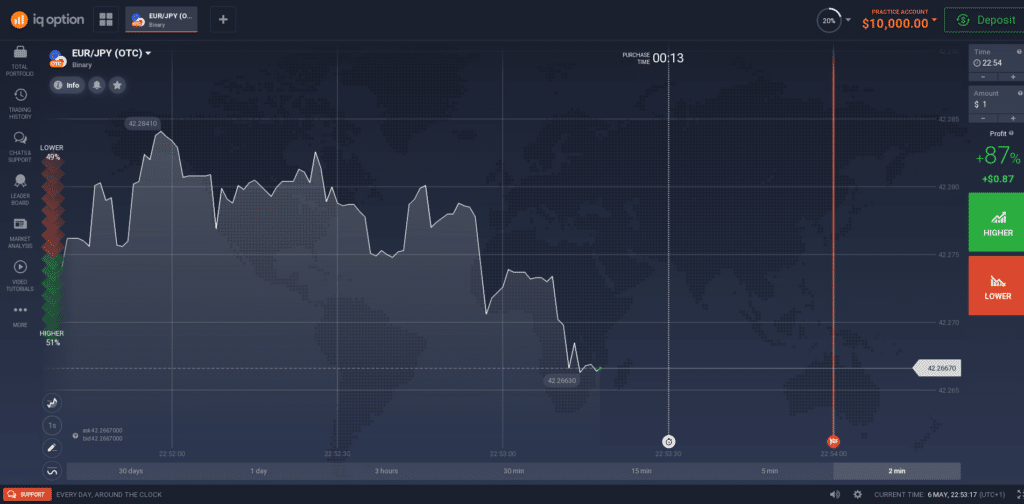 The assets are all accessible from a single menu and are divided by category. There is the possibility of inserting stocks in Watchlist to have a quick access to their chart. IQ Option's trading platform is also downloadable to PC and MAC, which allows for a much higher execution speed.
The simplicity of the IQ Option trading platform reflects the primary objective of this broker, which is to provide investment tools to those who have just started or do not have a lot of experience and capital to invest. Simple, even if it lacks indicators and tools that we can find elsewhere, even when we limit ourselves to web platforms.
Capital.com Trading Platform
Also Capital.com – click here for official website – mainly entrusts its operations to a proprietary WebTrader, accessible by anyone via any web browser. This platform integrates an innovative system with artificial intelligence, which allows its clients to be assisted by a "virtual tutor" who informs the trader of all the opportunities in the markets, also protecting him from any usual risks.
We are in front of another very evolved webtrader, rich in functionalities and aiming to compete with trading platforms that are instead to be downloaded and at least in appearance more solid and rich in functionalities.
Discover
Let's start with this section of the Capital.com platform, because it is perhaps the one that most distinguishes this broker from the others.
In this section it is possible to consult different types of data from the platform, such as the most traded securities and markets, the most volatile securities, those that are mostly up and those that are mostly down. In this specific section there are also news coming from the markets (even in English) and also mini-videos that can be consulted directly from the platform.
Despite the fact that it is a web interface, the Capital.com trading platform allows a good level of technical and chart analysis. The chart can integrate different types of indicators, such as Bollinger Bands, the most common oscillators, Moving Average, MACD, Ichimoku and many others. There are more than 60 of them and they make Capital.com's platform one of the most advanced and one of the most suitable for technical analysis in the world.
The platform is also equipped with freehand drawing tools on the chart, such as arrows and channels, Elliott waves, Fibonacci retracements and Gann fans. What we can do on Capital.com charts is more than satisfactory and definitely at the top regarding the possibilities offered by a web platform.
The order management offered through the Capital.com platform is complete and effective. In fact, we are dealing with a platform that allows short selling or long buying positions, which could be managed with leverage, stop loss, take profit and even conditional orders.
In the tab on market information it is possible to find information on sentiment, opening hours and all the most interesting information regarding the security on which we can invest. A section wherein order to be transparent the commissions associated to every single operation are also reported.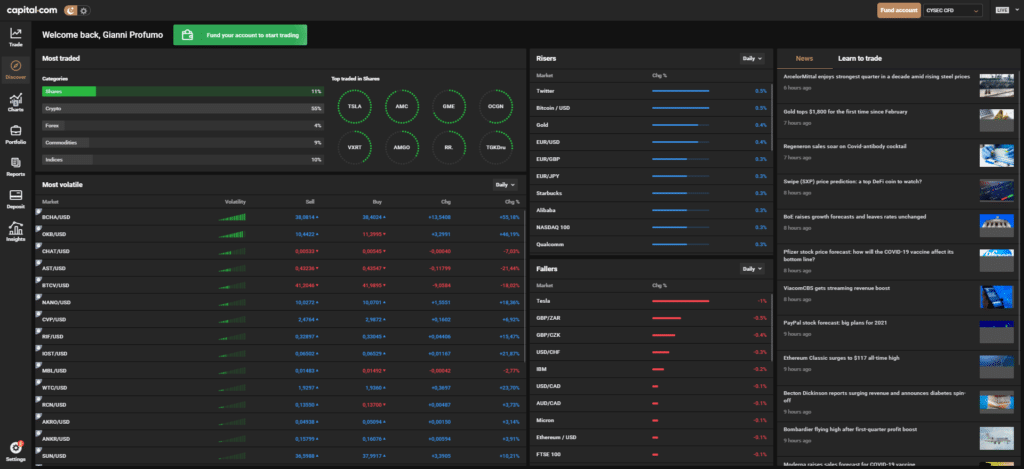 Also the portfolio section is simple but efficient. We will find in this tab all the positions we have already opened, with the possibility to close them or to add take profit or stop loss, or to instantly open a position in the opposite direction. In the portfolio section we can also see the orders that have not been executed yet, because the trigger price has not been reached yet.
Here the screen shows everything we've done on our account, also reporting the overnight commissions we've paid. Capital.com's merit note is the fact of reporting the commissions also on the free demo account (here to free sign) that the group offers to its customers. This allows you to have a better idea of how much you will actually pay when you switch to a real account.
Capital.com's online trading platform is a worthy complement to a broker which offers over 3,000 stocks on all major markets. It is complete, easy to understand and first to use, while offering those who want tools to increase the depth of their analysis.
TradingView with Capital.com
Capital.com is an innovative broker, always looking towards the future. TradingOnline.com appreciates its qualities, and it is for these reasons that we consider it one of the best brokers to trade online today. TradingView is a cutting edge external platform, and you can use it on Capital.com. Why is it called "cutting edge"? Because it offers the possibility to do technical analysis in a complete and very thorough way allowing the use of scripts written with Pine Script programming language, light and effective, perfect for trading in a fully automated way.
TradingView is available exclusively in the cloud, unlike MetaTrader, another software platform available to Capital.com customers. You can connect your account and trade directly from the official website of TradingView, without the need to log into your Capital.com account every single time.
MetaTrader 4 with Capital.com
TradingView is not the only so-called "external" platform integrated within the Capital.com broker. For some time now, in fact, we have been able to appreciate the seamless integration of the MetaTrader software, both in desktop and mobile versions, branded Capital.com. We made some trading tests with the MetaTrader 4 of Capital.com, and we were impressed by the speed of execution and the perfect alignment of price quotes.
You can download it for free by first opening a free demo account here. Then all you have to do is download MT4 and use it by logging in with your credentials. As all other compatible brokers, Capital.com also allows its customers to use trading bots and all other automated features.
Trade.com Trading Platform
Although Trade.com – click here for official website – relies on MetaTrader 4/5 primarily, there is still a web version of the group's proprietary platform that can be used for the same operations. A platform created with the aim of being simple to use by those who do not have much experience, with the addition, however, of an additional level of depth for those who do more in-depth analysis.
It's the first of the tabs offered by the Trade.com trading platform and it's where the stocks we indicate as favorites will end up. A sort of virtual portfolio of stocks that we may want to follow. It is convenient, because the list always represents the general market trend of the last 24 hours, as well as the price and the possibility of placing an order with a single click.
On this screen you'll find a selection of securities by Trade.com, starting from the trading volumes on its platform. It is also possible to consult, in the same TAB, the securities with the highest increase and those with the lowest decrease.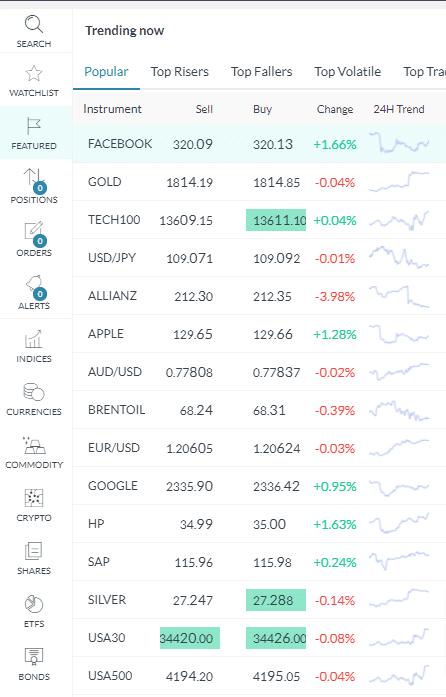 The correspondent of the portfolio at the other platforms, where you can find on one side the positions already opened and on the other side the conditional orders. Both types can be modified, at least as far as entry point, take loss and stop profit are concerned, this also includes ex-post.
For each of the more than 2,300 stocks available on Trade.com's listings – on which you can also invest with a free demo account for practice – the broker's proprietary platform offers a chart on which you can activate different types of indicators.
There are more than 40 indicators for technical analysis that can be applied to all assets on the platform, with the possibility of receiving resistances, supports and even pivots directly from Trading Central, integrated directly into the platform. This last feature is more unique than rare at least at the level of web trading platforms and allows you to receive free trading signals from one of the most popular brokers in the industry.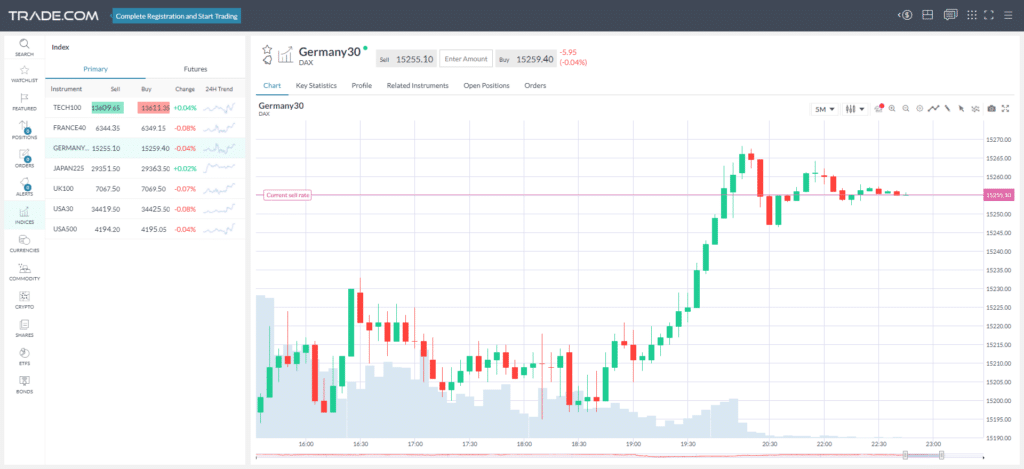 Another interesting fact is the tool "Related instruments", which for each security indicates, in a special TAB, all the instruments that statistically follow the trend of the security in question and those that have an inverse relationship. Tools of this type can be useful to set up diversified portfolios and for hedging purposes. Overall, Trade.com's web platform is a decent alternative to MetaTrader, which is still offered by Trade.com on the same assets and through the same accounts.
Types of Trading Platforms
Online trading platforms can also be divided in relation to compatible devices. Today online trading, also thanks to dedicated apps, has been able to reach any type of device. Let's see what are the main differences between trading on a dekstop, mobile and tablet.
Desktop Trading Platforms
The platforms that allow access via PC or Mac are on average the most powerful and those that offer the most functionality. Within this category we can only point out Metatrader – which although available in App mode, was created mainly as an application for trading on fixed or portable PCs, being able to express the best of itself on multi-screen setups.
All the Web Traders that we have already mentioned in our guide are also part of the Desktop PC platform category. eToro (click here for official site) offers the same platform within its web browser service, accessible also from PC, as well as via App for mobile trading.
Mobile Trading Platforms
Several web trading platforms also offer access to apps for major smartphone and tablet operating systems. Although both categories of these devices are actually capable of accessing the Web Trader versions provided by the bulk of brokers, in the presence of a dedicated App it tends to work better on one hand, and on the other to have less impact on the battery, which can be crucial for those who want to trade away from home.
Online trading apps have been on the market for a while now, and they have come a long way. In their early days, many of the features available on the desktop version were missing; nowadays almost all of them offer the same experience on different devices, just on a differente screen.
Trading App for iOS/iPadOS
These are the operating systems, actually almost identical for the user, that are used by Apple for its iPhones and iPads.
The online trading apps that are offered by eToro, Trade.com, Capital.com and IQ Option are available directly on the App Store, which confirms their reputation from a technical and security perspective.
Android / Google Play Store
The same applies to Android devices. In this case the official Apps of the best brokers and their platforms are available at Google Play Store. Since these are apps that will also manage our deposits and orders, it's always better to avoid installing from other sources that are not directly linked to Google and its facilities.
Note on MetaTrader: it exists also in a mobile version for all major operating systems and can be used without problems both on Apple smartphones and tablets and on Android ones. Also in this case it is possible to find the relative App, regardless of which broker we want to use, in the main stores.
Downloadable trading platforms
Some online trading platforms can instead be downloaded and installed directly on our computer. They may have different versions for Mac and Windows, but pretty much all of them are compatible with these two major operative systems.
It allows you to download its otherwise accessible platform via web browser on both Windows PCs and Macs. The download is directly available within the platform and ensures faster execution times, less RAM consumption and processor computing power.
Although available in a reduced version via the Web, it still remains a platform born to give its best when downloaded and installed. Some brokers also offer an encapsulated version to work on Mac as well, with decent results and with access to all the features we have described above within this platform.
Choosing the best trading platform by asset
The choice of the best trading platform must also be in relation to the markets on which we trade most frequently. Some platforms manage to offer specific features that are useful to those who want to trade in a particular market.
There are several factors that we need to take into account when we are looking for the best online trading platform to invest in Forex. The most important features are the speed of execution, the clarity of the charts and the built-in presence of indicators that can help us read the chart.
Execution speed becomes crucial precisely because Forex is often played, especially for those traders who apply short-term strategies, on a few pips difference. Some trading platforms, such as Metatrader, also have the option to use a VPS for a faster connection to the broker's servers. This can cut the execution time of trades into half, or even more in some cases. If you are a scalper trying to make very quick trades, this is a feature you may want to see on your platform.
For a trader, there isn't much of a difference between traditional currencies and cryptocurrencies when it comes to trading platforms. The important factors for choosing the right software remain the same.
Execution speed remains crucial, indeed it becomes even more important because cryptocurrencies are more volatile, especially in the short term, than classic currencies.
Secondly, a platform for trading Bitcoin and altcoins must also allow for short selling. Thirdly, particular attention should be given to a platform that has low spreads, but this depends more on the broker we have chosen than on the platform. Because we are dealing with a market on which very variable spreads are applied by brokers and non-specialized platforms that can greatly affect profit opportunities.
The stock market remains a classic market on which many people bet especially on the long and very long term. For this reason execution speed becomes less important, while other factors become critical. A chart that can also show trading volumes and the order book along with market prices, as MetaTrader does for example, is definitely useful for those who want to invest profitably in stocks.
A platform definitely gains points if it also allows to know the depth of market of the various tradable assets. Also useful, especially when the platform has hundreds or thousands of shares, is the fact of being able to have a watchlist with our favorite stocks.
Indices are a very particular market. The key here around which the usefulness of the trading platform we choose is first of all the information on the type of securities we are going to buy. The type of security, the type of replication, the costs involved in the replication, and the weight of each component on the index must necessarily be reported.
Without this kind of information – which each of the quality trading platforms offers – it is not possible to transparently choose which are suitable and which are less suitable for our strategies. As far as operational functionality is concerned, indices must necessarily be considered similar to stocks because they follow their most important characteristics.
ETFs are passively managed mutual funds that act as a replica of a specific basket of assets, which in fact makes them very similar to indices.
ETFs sometimes incorporate their own financial leverage and therefore it becomes essential to have a platform that gives us information on the leverage incorporated, the trading costs associated with management and also the exact composition of the index. In addition, with ETFs it can also be useful to have short selling available to bet on the downside of these securities.
Free trading platforms: can they be trusted?
Many different trading platforms offer free access to everyone, even people who have got no capital to invest or who are just willing to try the plaform before trading with real money. Some of these platforms have got an hidden interest in making you subscribe to their service.
If we choose a free trading platform we have to check the integrity and the the history of the broker that makes us this offer. We have to look forward, to what we will be able to find on the real account once we finish trying out the platform for free.

You should never use free trading platforms that ask you your credit card number before granting you access. Real high-quality platforms are really free of charge and will never ask you for payment details before giving you access to a demo account.
eToro offers a free demo account that you can use to trade on all major financial asset classes. This broker has a lot of free features already available on the paper trading account, which also give you 100.000$ to practice. With over 2.100+ tradeable assets, it is one of the best brokers out there.
Capital.com has got a free demo account as well, which allows you to trade with 1.000$ on the vast majority of the CFDs present on the platform. You can also try all the main features of this service, including the three different platforms and the A.I. that gives you suggestions to improve your analysis.
Trade.com offers a free demo that grants you access to the platform and to all tradeable assets with no limitation. The only feature that cannot be tested in this paper trading environment is the free Trading Central signals: you must have a real-money account to use those. Trade.com also invites his new customers to study its free day trading course. Overall it is a very decent broker, with a solid range of services provided for free.
FP Markets gives you access to Metatrader and allows you to trade dozens of assets on this well-known platform at no extra cost. You just need to register, download the platform and log into your paper trading account to try out all this broker has to offer.
You can open a demo account with Iq Option right here and enjoy the very unique experience of trading with this broker, on his proprietary trading platform and using the different services provided in each country where it operates. European customers will have access to CFDs and Forex Options, while in other juridsictions binary options are still part of the platform.
Best free trading platforms
We have already explored the online trading platforms that we can trust. Now we will talk about some of the features offered by the brokers that offer them.
Brokers and trading platforms are two sides of the same service, so when you choose one you should always also consider the other. Brokers can emphasize the good or the bad aspects of their platforms, depending on the tradeable assets, spreads and execution they propose.
eToro is a worldwide broker, headquartered in Europe where it operates with a proper CySec approval. Its proprietary trading platform can be used also with a free paper trading account, both on desktop and on mobile.
| eToro – Details | Features |
| --- | --- |
| Name | eToro |
| Regulated by | CySEC (EU), FCA (UK), FinCEN (USA), ASIC (AU) |
| Type of platform | Proprietary |
| Tradeable assets | Stocks, ETFs, Indices, Cryptocurrencies, Forex, Bonds, Futures, Commodities |
| Commissions | No commission on DMA trading // spread on CFDs |
| Good for | Who is looking for an easy-to-use yet powerful platform |
| Demo account | Available and free |
| App | Android & iOS |
Table with the main features of eToro
Capital.com offers the possibility to trade more than 3.000 assets with a proprietary trading platform, that can be access both on desktop and on mobile. You can also use 1.000 virtual U.S. Dollars to practice with the free demo account, with no expiration.
| Capital.com – Details | Features |
| --- | --- |
| Name | Capital.com |
| Regulated by | CySEC (EU), FCA (UK) |
| Type of platform | Proprietary, Metatrader, TradingView |
| Tradeable assets | Stocks, ETFs, Indices, Cryptocurrencies, Forex, Commodities |
| Commissions | Spread and overnight commission |
| Good for | Who is looking for a lot of tradeable assets and tight spreads |
| Demo account | Available and free |
| App | Android & iOS |
Table with the main features of Capital.com
FP Markets is an Australian broker that gives its customers the possibility to trade 11.000+ different financial instruments belonging to all major asset classes. It relies on Metatrader to provide a professional trading experience, and the IRESS platform to trade in DMA mode.
| FP Markets – Details | Features |
| --- | --- |
| Name | Fp Markets |
| Regulated by | CySEC (EU), FCA (UK), ASIC (AU) |
| Type of platform | Metatrader, IRESS |
| Tradeable assets | Stocks, ETFs, Indices, Cryptocurrencies, Forex, Commodities |
| Commissions | Spread and overnight commission |
| Good for | A professional trading experience with both CFDs and underlying assets |
| Demo account | Available and free |
| App | Android & iOS |
Table with the main features of FP Markets
Iq Option is a very solid broker with a free proprietary trading platform. You will find just a selection of few of the most important tradeable assets, but the possibility to trade options is very interesting and makes for a good, different experience overall.
| IQ Option – Details | Features |
| --- | --- |
| Name | IQ Option |
| Regulated by | CySEC (EU) |
| Type of platform | Proprietary |
| Tradeable assets | Stocks, ETFs, Indices, Cryptocurrencies, Forex, Commodities, Options |
| Commissions | Spread and overnight commission |
| Good for | Trading Forex or binary options, depending on the country where you reside |
| Demo account | Available and free |
| App | Android & iOS |
Table with the main features of Iq Option
Trade.com has a wide selection of trading platforms that can be accessed for free. It also enables its customers to trade more than 2.300 assets, including stocks from all major exchanges in the world.
| Trade.com – Details | Features |
| --- | --- |
| Name | Trade.com |
| Regulated by | CySEC (EU), FCA (UK) |
| Type of platform | Metatrader, Proprietary |
| Tradeable assets | Stocks, ETFs, Indices, Cryptocurrencies, Forex, Commodities, Options |
| Commissions | Spread and overnight commission |
| Good for | Using Metatrader with tight spreads |
| Demo account | Available and free |
| App | Android & iOS |
Table with the main features of Trade.com
What is the difference between brokers and platforms?
Brokers and platforms are not the same thing. They are two sides of online trading that are necessary one for the other. Just as your online banking platform is provided by your bank, but it is not your bank, the same is true for online trading platforms. Brokers are companies that decide what assets their customers will be able to trade, what type of commission they will charge, how they will handle the execution of trades and so on.
On the other side, trading platforms are the software that enables their customers to send orders and handle their trading operations with ease. The platforms are a bridge in between you and your broker, and as such they create the possibility to carry all these operations online and remotely. The difference is very clear when we think of Metatrader, which is just one platform but it is used by hundreds of different broker worldwide.
Final thoughts
Choosing the right trading platform, considering your own necessities and skills is the very first step into online trading. Not all available platforms are of the same level, and some are clearly better than others. Sometimes they are not better or worse instead, but just different.
With this article we explained everything about online trading platforms, also explaining what are the best ones to face the markets today.

Your next step, if you are considering day trading as a serious opportunity, is to improve your set of skills and knowledge by trying the different platforms and looking for the one that best fits your trading style.
No single platform can be considered a clear winner that stands above the others. As such, the best thing a trader can do is testing all the different platforms available and deciding by its own experience and preferences.
FAQs about online trading platforms
What are online trading platforms?
They are pieces of software used by traders to send orders to their broker.
What are the best online trading platforms?
This depends on the trader itself. Metatrader and TradingView are generally-speaking considered the most professional ones.
Is it difficult to use an online trading platform?
It depends on the platform. The best ones have a detailed documentation and free resources that teach you how they can be used.
Are there any good free trading platforms?
Almost all of the best online trading platforms are free to use, as the brokers will eventually profit from commissions on the trades made by users.
What is an authorized trading platform?
Different countries have different approaches in this regard, but most have an authority that decides if a broker is reputable enough to operate in their jurisdiction.
Can you test online trading platforms for free?
Sure you can. Just take a look at the best paper trading accounts.
©️TradingOnline.com vote
---
⭐⭐⭐⭐⭐